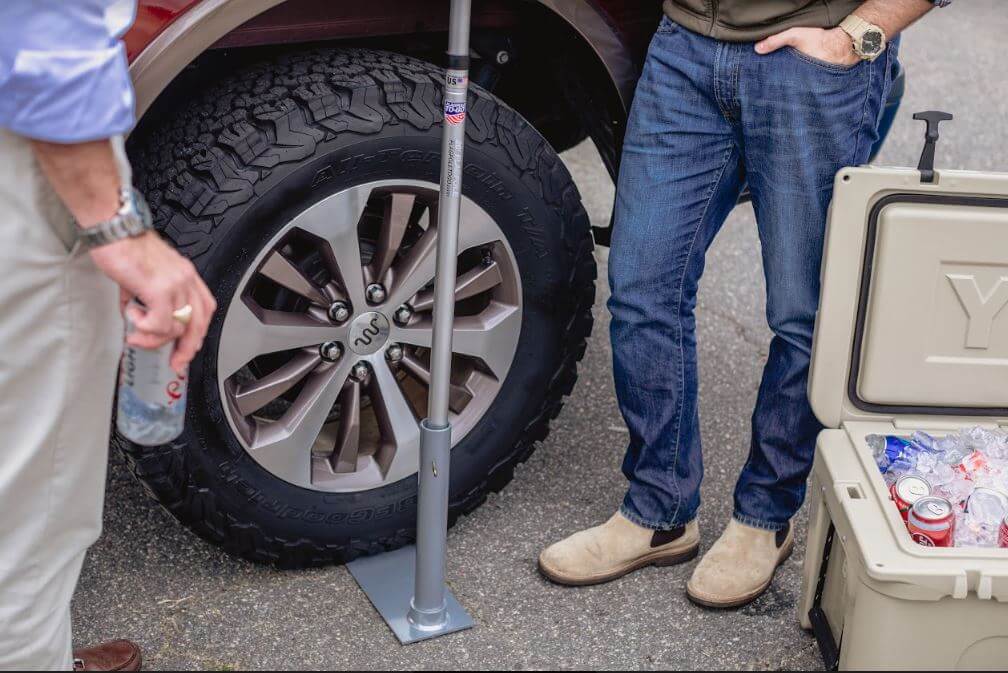 Explore Flag Pole Hardware
Fly your flag your way. Our top-notch Flag Pole Hardware secures your flagpole wherever you go, whether you're at home, camping, or exploring the open road. With our wide range of options—wall, deck, dock, and tire mounts—you'll find the perfect foundation for your flagging fun! Check out all of our hardware options to secure your setup!
On-the-Go Options
Take your flagpole anywhere with our convenient on-the-go flagpole mounts. Whether you're camping in the wilderness or tailgating at your favorite sports event, our mounts allow you to proudly display your flag wherever you go. Choose from our tire mount or ground mount options, or better yet, get both to maximize your flagpole versatility.
Permanent Displays
Make every season flagpole season with our mount options for permanent displays. Whether you're looking to set up a flag display on your porch, or your deck/dock, we have a perfect solution for you. Start proudly displaying your flags in a permanent way!
Yes, secure our permanent mounts with a few simple screws, and our portable mounts require no tools at all!
Flag poles are sold separately. If you would like to purchase a portable flag pole and a mount, browse our flag pole kit collection.
If you do not want to drill holes anywhere, you can take a look at our ground and tire mount options. Our ground mount includes a 8" stake to secure a flagpole on sand, grass, or dirt. On the other hand, our tire mount is secured by driving one tire over the metal baseplate.
Mount your flag on a sturdy wall, near the front entrance or porch area. Choose a spot that allows the flag to wave freely without obstruction from trees or other structures!