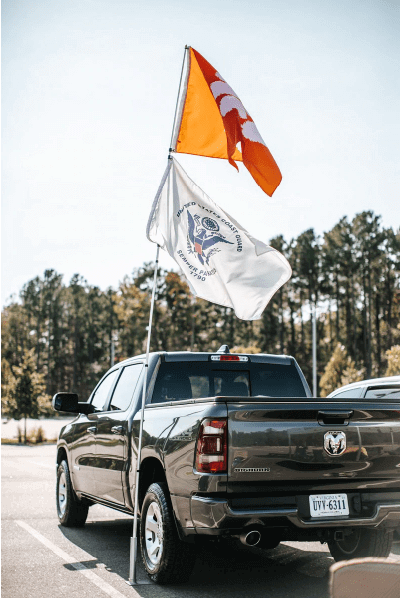 Tailgating flag poles and accessories 
Gather your squad, fire up the grill, and take your tailgating game to the next level! With our top-of-the-line tailgating flag poles, you will elevate your pre-game festivities to legendary status. Whether you're a die-hard fan or just love a good party, our tailgating flag poles are your go-to for parking lot perfection. Experience the best flag pole for tailgating with quick, hassle-free setup that transforms your tailgate into the ultimate fan zone.This football season, prove you're the ultimate fan and make every tailgate unforgettable!
Tailgating Flag Poles
Looking for the ultimate tailgating flag pole experience? Look no further! Whether you want a complete setup, the tallest pole on the market, or a portable hand-held option, we've got the perfect pole for you.
Tailgate Flags
Support your favorite teams with our fantastic collection of collegiate and NFL flags! Whether you're going big with our 3' x 5' options or opting for a smaller 12x18 for your garden flag stand, you'll proudly display your team pride wherever you go. Celebrate football season and show off your team spirit!
Tailgate Flag Holders
Make every game day unforgettable, no matter where you are. Explore our versatile setups that seamlessly integrate with your truck and options designed for grassy fields and sandy shores. Find the best gear for your game day adventures!
Tailgate Accessories
Nothing says game day like cracking open a cold one! Our coolers, available in your team's vibrant colors or a patriotic style, are more than just accessories – they're game day essentials.