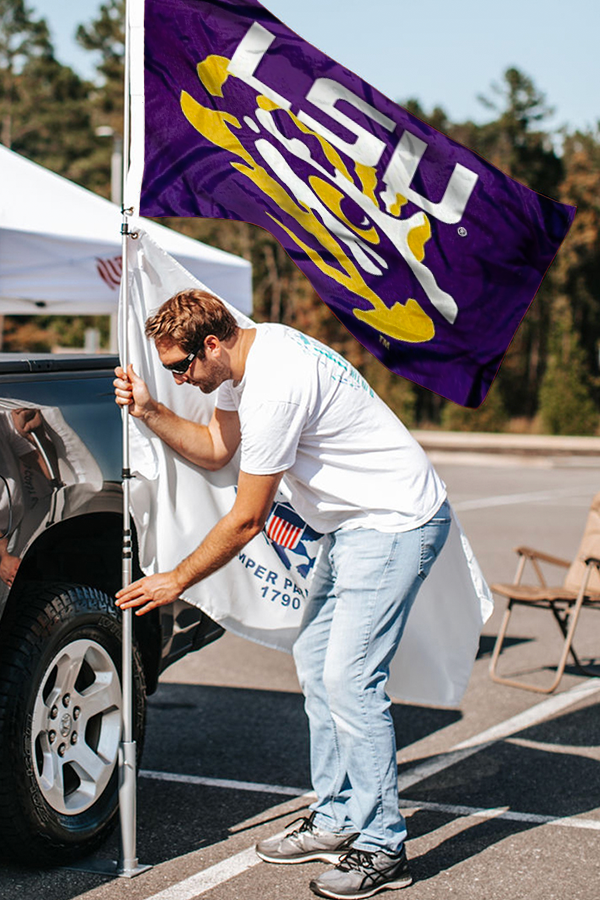 Collegiate Basketball Flags & Accessories Collection
Are you a die-hard NCAA basketball fan? Look no further than our Collegiate Basketball Flag Collection for all your fan flag needs! Get ready to cheer on your favorite team from the beginning of the season all the way through March Madness. Whether you're a proud Alabama Crimson Tide supporter, or you're a Wahoo, we've got you covered. Hang our basketball flags in your home, tailgate the game, or wave them in the arena—the choice is up to you. Wherever you are, support your team and step up your game day experience! Let's make this basketball season one to remember! 
Historic Rivalries
It's time to declare your allegiance! The NCAA has some epic historic rivalries—show that your team is the BEST team with our flag options! Don't let the opposing team out-spirit you – take your fan game to the next level with our collegiate basketball flag collection.
Florida vs. Florida State
Ole Miss vs. Mississippi State
Size Flag Guide
12" x 18" Flags
They may be small in size, but they're big in spirit! Our 12" x 18" flags are the perfect size for our specialty flag holders. With our 12" x 18" basketball flags, you can show off your spirit on our compatible garden flag stand, boat flag pole, or our golf cart flag holder.  Or, bring the spirit inside by using them to decorate your walls! No matter what your flagging style, our 12" x 18" options are a slam dunk!
3' x 5' Flags
Go big or go home with our 3'x5' basketball flag options. You can proudly raise these flags on any of our flagpoles taller than 5 feet—pair with our aluminum telescoping flagpole, portable hide-a-pole flagpole, 28 ft aluminum flagpole, or our trusty 20-foot flagpole. Score major team spirit points with these impressive flags!